May 14th, 2017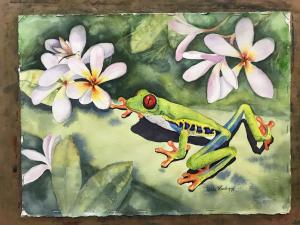 Frog and Plumerias was a painting in which I used mostly green values. The greens are the dominate colors and I concentrated on the frog to make it the focal point. I started out with light washes and then more color to built up values on the frog. Wet into wet techniques were used in the background.
September 8th, 2015
My newest Horse Card Collection Set. These cards are blank and include 5 different images, 5 envlopes and an index card on the back of each package. Each package is also hand wrapped with a sheer ribbon and then put in a sealed cellophane bag $20.00. The cards are printed in the USA on quality card stock. Each horse image was painted by me and prints and maybe an original are still available on Fineartamerica.

I will be soon finished with a Dragonfly Card Collection Set. Hilda Vandergiff.
September 8th, 2015


Fall Pumpkins

This is my first art process blog. Here is how I painted this nice trio of Fall Pumpkin Paintings.
Materials you will need are three 8 x 10 canvas, gesso and acrylic paints.


First start by covering your canvas with white gesso and let them dry completely.
Second step is to use a light tone of greens for the backgrounds. Make brush strokes in different directions.

Third draw in the pumpkin shapes in a variety of sizes and add a few leaves to some using a stick of chalk.

Fourth step start painting the pumpkins using different tones of oranges, yellow orange, red oranges. I paint in layers and let one layer dry and then paint over the area again.

Fifth step paint the bottom area where pumpkins sit and add shadows. Details are always the last to do and I just used my initials in these paintings. These are easy and fun to paint and perfect for fall decorating.

The pictures in this blog vary. Please go to my website to see the final three paintings at: HildaVandergriff.com
Decorate your home with the paintings in different groupings or maybe just frame each one and give away as a gift - Hilda Vandergriff
July 15th, 2012
I just joined FAA and I am excited, so much to learn and can't wait to start posting my art works. I like working in themes and art mediums, so I think that creating new galleries will work well for me. Watch for my pastels and Asian art works.